HOLIDAY SALE
60% OFF
SALE ENDS IN:
Trying To Build Muscle But Your Body Still Looks The Same? Here's How To Fix That
Without…
Spending all of your time at the gym.
Gaining excess body fat.
Losing motivation.
Wasting money on useless supplements.
Using a workout or diet that isn't customized to YOU.
Does This Sound Familiar?
You're putting in the time and effort… but you have little or no results to show for it.
You have a busy schedule… so you don't have time to spend hours in the gym every day or sit around planning complicated meals.
You're trying to gain lean muscle… but you gain too much body fat.
You're not confident in your workout or diet plan… so you're always second-guessing yourself and looking for something better.
You know what to do… but you lose motivation and can't stay consistent with it.
You've tried "bulking and cutting" …but you end up gaining and losing the same weight and getting nowhere.
You need to build muscle AND lose fat… but you can't figure out how to accomplish both goals.
You're gaining strength… but not much muscle.
You spend tons of time researching what to do… and now you're overwhelmed with conflicting information.
You want the best diet and workout for your specific age, gender, genetics, and goals… but nothing is ever customized to YOU.
What If There Was A Way To Finally Solve These Problems?
Introducing…
Superior Muscle Growth
Superior Muscle Growth is the ultimate science-based program for building lean muscle as fast as possible while eliminating every single problem that stands in the way of getting the body you want.

This is the proven step-by-step system that has been tested, adjusted, and improved over a span of 15 years by myself, my hundreds of clients, and the thousands of men and women who have come to me for help and advice.

Superior Muscle Growth is the most effective approach to building your ideal body, regardless of your age, genetics, gender, body type, available schedule, or specific goals.

This isn't just what works. This is what works best.
Here's What Superior Muscle Growth Will Do For You…
You'll build lean muscle better and faster than everyone else, and you'll do it without gaining excess fat.
You'll start seeing noticeable changes to your body within a few short weeks, and begin to love what you see in the mirror and the confidence that comes with it. Friends and family will start asking you for advice on how they can get results like yours.
You'll finally have a workout routine and diet plan that conveniently fits into your busy schedule, without having to sacrifice time with your family, job, school work, or social life.
You'll know the secret to staying motivated and consistent, and why it's the complete opposite of what most people think. Plus, you'll be less likely to lose motivation when you're actually seeing results every week.
You'll never waste another minute of your time on Google or YouTube searching for information on what to do. I've already done all of that work for you and spent years perfecting it. All you have to do now is get started and watch it work.
You'll have the perfect workout and diet plan, and feel confident in what you're doing. That means no more second-guessing, doubting, or constantly changing to some "better" program. THIS is that program.
You'll avoid wasting money on useless supplements, clueless personal trainers, and overpriced online coaches whose only skill is posting pics of their abs and ass on Instagram all day.
You'll discover how to easily customize your entire diet and workout based on your gender, age (20s, 30s, 40s, 50s, or 60+), genetics (no matter how bad they are), and your exact muscle building goals (build a lot of muscle everywhere, or just the right amount in the right places).
You'll avoid the mistakes that lead to injuries, so you can build the body you want without the usual aches and pains that always seem to derail your progress and set you back months.
You'll learn exactly what steps to follow when you want to build muscle AND lose fat. You'll never be confused again about which goal to focus on first, or how to accomplish both goals at the same time.
And so… much… more.
Does Superior Muscle Growth Really Work? See For Yourself…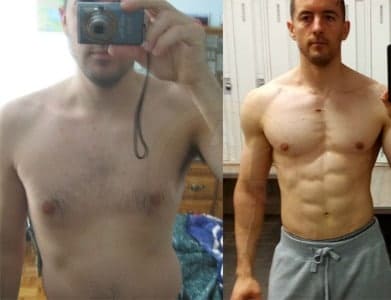 "I just wanted to say thank you. It's been a few years since I first purchased SMG and I still apply everything I learned to this day. I love how easy it is to read and how easy it is to setup a training program. In the past, I would go crazy in finding that "one holy grail" workout program. Now all I do is choose one from Superior Muscle Growth that helps me accomplish my goal."
Filippo B.
(SMG Customer)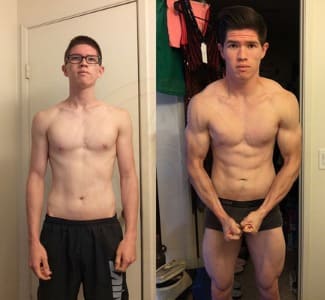 "Jay's work is some of the best I've ever come across. I used Superior Muscle Growth to gain 35lbs over an 18 month period (from 130lbs to 165lbs), and then read through and used Superior Fat Loss to easily shred 15lbs of fat away in a few months to create the physique that I've always wanted. No magic workouts or diet pills here, and no marketing BS. Just proven info backed by results."
Aaron M.
(SMG Customer)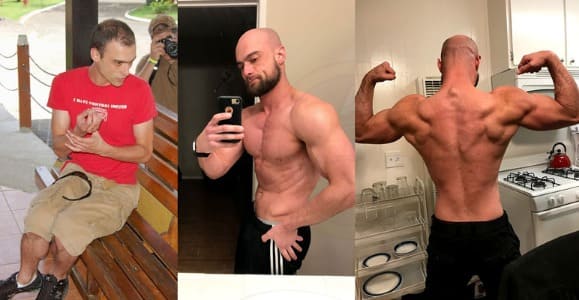 "When Superior Muscle Growth was released, I snapped it up and read it end-to-end several times. I knew Jay is as knowledgeable and transparent on the subject as one could possibly be and I put my full faith into his methods. By sticking to the knowledge gleaned from SMG (both diet and training), I was able to add 35lbs of lean mass to my frame in three years."
Avi K.
(SMG Customer)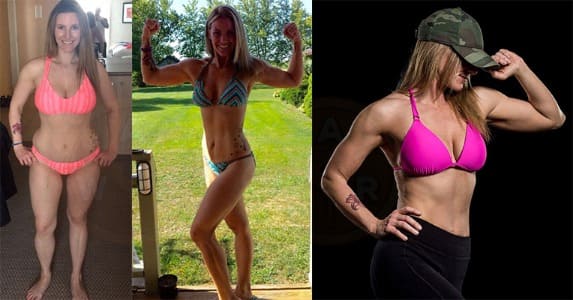 "Just wanted to thank you again for creating such an informative no-bullshit program. I read it and it changed a lot of views I had. I followed your program and I'm very happy with my progress so far! I went to Jamaica to celebrate my success of getting my body fat percentage to 18%. I started at 32%. Lost over 20lbs and was able to put on significant muscle while losing fat! So many people make it a lot harder and more complicated than it needs to be! Superior Muscle Growth was very refreshing and made it an easy journey to stick to with a lot of success."
Shayna T.
(SMG Customer)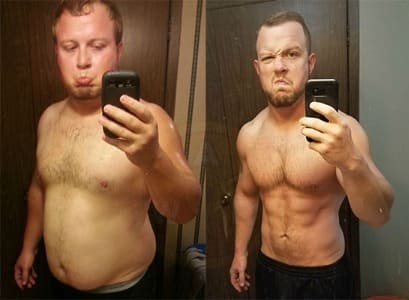 "I've lost 65lbs and went from 27% BF to 14% while increasing strength on my lifts! This is all due to Superior Muscle Growth. Thank you! Seriously. My genes make fat gain so easy and I've struggled with my weight my whole life. I finally look the way I've wanted to for the first time in 20 years, all thanks to you. I've told anyone who asks that they need to buy your programs!"
Michael C.
(SMG Customer)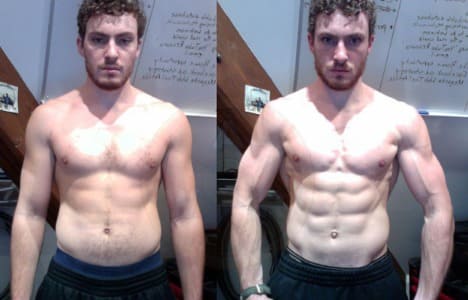 "I want to say thanks for sharing your knowledge in Superior Muscle Growth. After following your straightforward advice on diet and exercise for just five weeks, I've shed serious amounts of fat, gained some muscle, and basically gotten in the best shape of my life. Your matter-of-fact, no bullshit approach is so refreshing. Thanks again for this journey!"
Robert M.
(SMG Customer)

"I have honestly seen better, more noticeable progress in the last couple of months using your program than I have in the last 3 years using anything else! In my wildest dreams I never would have thought I could look the way I do and feel the way I do now! I love what I see when I look in the mirror now and I love the acceptance and peace that I have found within myself."
Tiffany M.
(SMG Customer)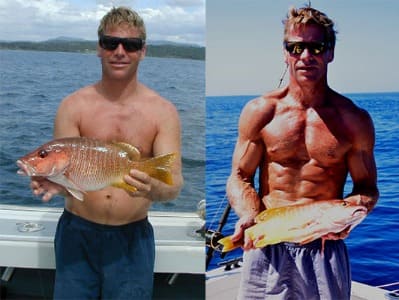 "I wanted to share these 2 pics from fishing in Costa Rica. They are about 1.5 years apart. I have followed your directions exactly and the results speak for themselves. Thanks for sharing what you've learned! You created an excellent program, and if the reader actually does what you suggest, they cannot fail. It really, really works! There aren't many programs you can say that about."
John W.
(SMG Customer)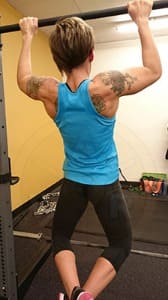 "Just wanted to write and tell you thank you. I found your website and bought SMG about a year ago and it's changed my life. I get compliments from complete strangers on my physique. I'm doing pull-ups with 15lbs on a dip belt and feel like a boss in the gym. I wanted to let you know I listened, implemented, and it worked just as you said it would."
Ashlee M.
(SMG Customer)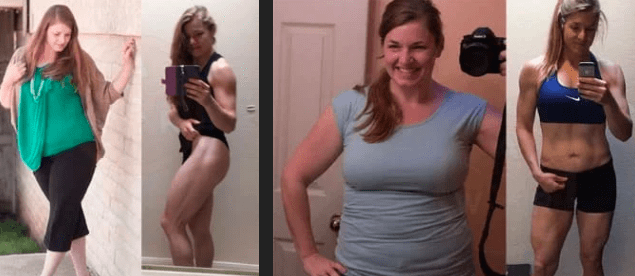 Susie A.
(SMG Customer)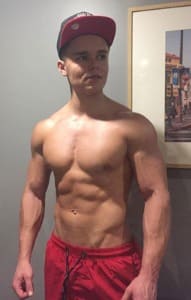 Dirk E.
(SMG Customer)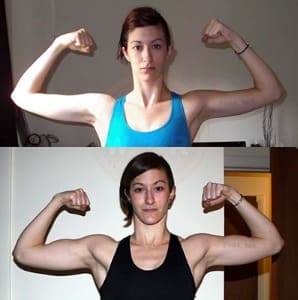 Jordan F.
(SMG Customer)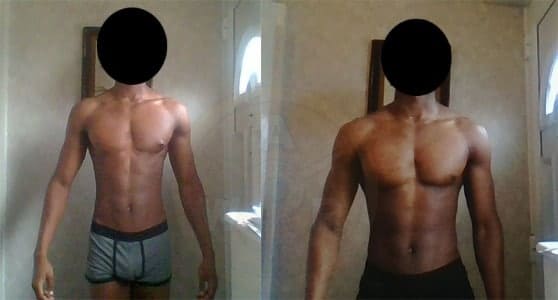 "Superior Muscle Growth taught me to focus on progressive overload, the best way to train, the importance of proper form, and how effortless it is to make progress in this fitness lifestyle. Buy this program. Thank me later."
Samuel S.
(SMG Customer)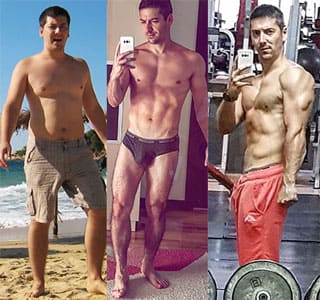 "I just wanted to show you my progress. It's all because of the priceless knowledge I gained from Superior Muscle Growth. Thank you!
Vuk P.
(SMG Customer)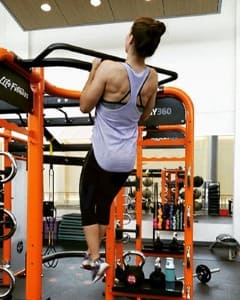 "I bought Superior Muscle Growth to see if it could help me. I read the whole thing within a week and immediately started your workouts. A few months into your program I really was able to push myself, grow stronger, and now I can almost do 10 pull-ups in a row (I couldn't even get one before this).

I also went from barely being able to bench press the bar to now hitting a PR of 115 pounds for two reps. And even though I'm a female, I haven't looked manly (haha). I've only become stronger and my physique has improved. Thank you for creating this amazing program! I have benefited greatly."
Meredith H.
(SMG Customer)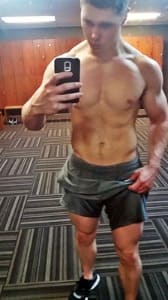 "I have been following your program since the day I finished reading it about 3 years ago. Your hard work & knowledge has made this possible for me and I can't thank you enough! Stop wasting time, get SMG!"
Jeremy K
(SMG Customer)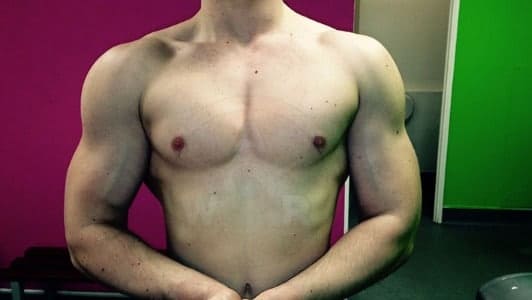 "How much have I benefited from Superior Muscle Growth? Simply put, it's been a life-changer. In the previous years of training before I came across SMG, I made decent results. But I got to a point where I had no real direction and felt like I was just going through the motions. That's when I made the decision to purchase SMG. Everything changed. I got stronger quickly, and my muscle mass improved noticeably. I know now that I don't need to keep looking everywhere for what works best for building muscle. Because I already have it."
Luke H.
(SMG Customer)
*Individual results may vary.
Here's Everything You Get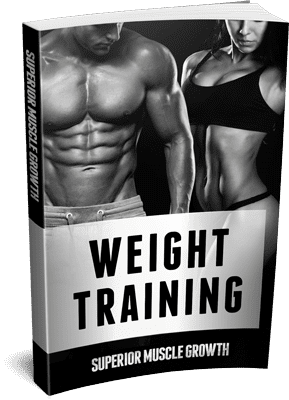 The Weight Training Component
($79 value)
You'll get the most effective weight training workout for your age, schedule, gender, genetics, and goals, along with the science-based answers to every workout question you have. This includes…
How many sets and reps.
How many exercises to do.
Which exercises are best.
The best workout schedules.
Rest periods.
Progression methods.
2, 3, 4, and 5-day options.
Options for all experience levels.
Proper form.
Rep tempo and speed.
Training to failure.
Deloads and training breaks.
($79 value)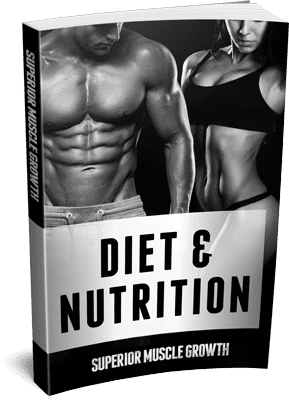 The Diet Component
($79 value)
We'll go step-by-step and create the most effective muscle building diet for your specific needs, goals, preferences, and schedule. This includes…
How many calories to eat.
How much protein to eat.
How much fat to eat.
How many carbs to eat.
The best food sources.
Meal timing and frequency.
Easily staying consistent.
Eating all of your favorite foods.
Actually enjoying your diet.
($79 value)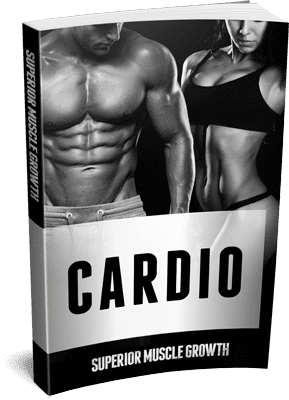 The Cardio Component
($39 value)
Cardio is completely optional, but I'll show you the most effective way to balance cardio with weight training and make it work for you. This includes…
Why cardio is optional.
The benefits.
The problems (and solutions).
Balancing cardio with weights.
How much cardio to do.
Exactly how long to do it.
Exactly how often to do it.
The best cardio exercise.
($39 value)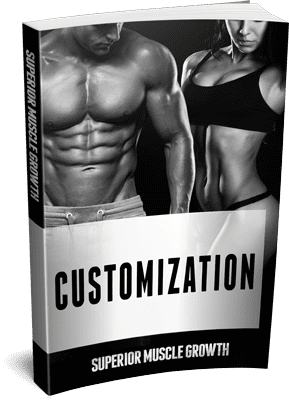 Customization & Personalization Protocol
($69 value)
I'll show you how to customize every diet and workout factor to suit your specific needs, personal preferences, and exact goals so it's as easy, effective, and sustainable for you as possible. This includes…
Your age.
Your schedule.
Your experience level.
Your gender.
Your budget.
Your genetics and body type.
Your food preferences.
Your available equipment.
Your exact goals.
Your preferred exercises.
($69 value)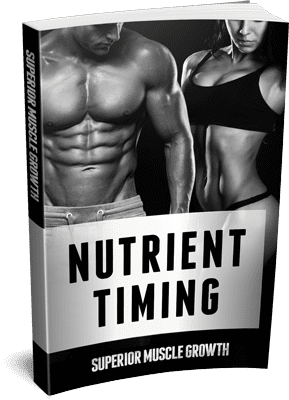 The Nutrient Timing Protocol
($49 value)
I'll show you how to use your pre and post workout meals to enhance strength and performance, and optimize your recovery. This includes…
What to eat before a workout.
What to eat after a workout.
The ideal food sources.
The ideal timing of these meals.
Options for working out early.
Options for working out late.
Options for working out fasted.
($49 value)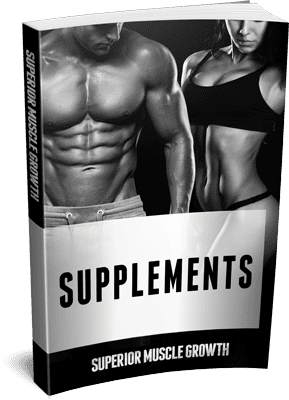 The Supplements Component
($39 value)
Supplements are completely optional on this program (feel free to save your money), but I'll show you which have been proven to be safe and effective for building your ideal body, and which are complete crap. This includes…
Why supplements are optional.
Why most are crap.
Which supplements work.
Which supplements are safe.
Which supplements I use.
My specific recommendations.
How and when I use them.
($39 value)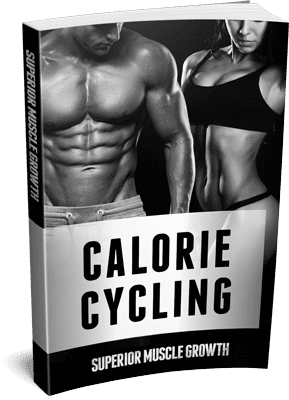 The Calorie Cycling Protocol
($39 value)
I'll show you a simple trick for strategically adjusting your calories throughout the week so nutrients go toward the muscle building process instead of being stored as fat. It will also allow you to optimize recovery and weight training performance, and make your life easier and more convenient on special occasions (e.g. birthdays, holidays, etc.), or when you go out to eat.
($39 value)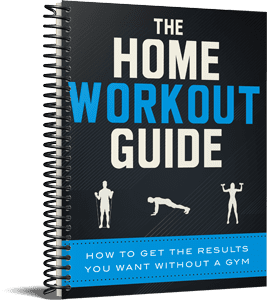 The Home Workout Guide
($69 value)
Are you working out at home with little or no equipment? Maybe some dumbbells, resistance bands, or just your own body weight? No problem. I'll show you how to build your ideal body without a gym. This includes…
2-day and 3-day home workouts.
4-day and 5-day home workouts.
Options for all experience levels.
Home equipment walk-through.
Exercise adjustment protocol.
170+ home exercises.
Video examples for each.
Body weight options.
Dumbbell options.
Resistance band options.
($39 value)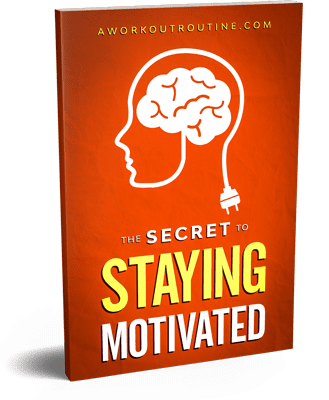 The Secret To Staying Motivated
($49 value)
I'll explain why motivation doesn't work the way most people think it does, and then teach you the simple trick to always being consistent with your diet and workout… even when you're not feeling motivated to be. This includes…
The problems with motivation.
How to get motivated.
How to stay motivated.
How to build habits.
The trick to staying consistent.
My simple 4-step method.
($49 value)
You Also Get…
The Best Workout Routines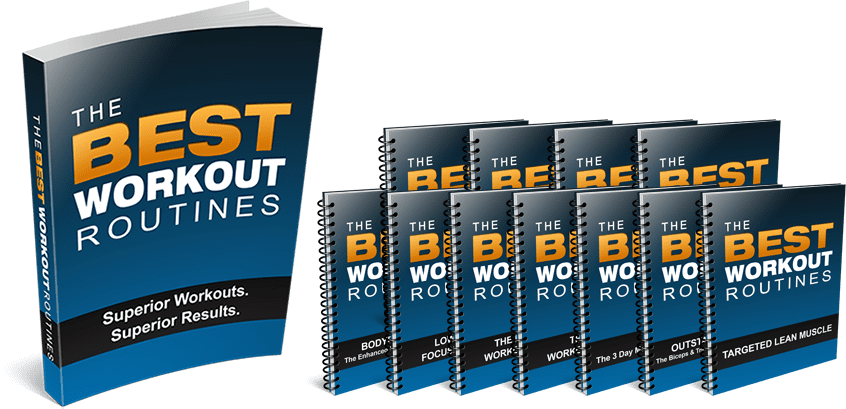 The Muscle Building Workout Routine (Expanded Edition)
Bodybuilding 2.0: The New Way To Build Muscle
Targeted Lean Muscle
Outstanding Arms: The Bis/Tris Specialization Plan
Upper Body Focused Training
Lower Body Focused Training
The 2-Day Workout Routine
Maximum Muscle Hypertrophy
The Fat Loss + Muscle Maintenance Solution
The Beginner Weight Training Routine (Expanded Edition)
3DM: The 3-Day Mass Gaining Routine
This is a complete collection of the most effective workouts I've ever used myself or designed for my clients. It includes 11 proven workouts, 40+ different versions, and plenty of options to suit any schedule, equipment, or goal.
($99 value)
Get Instant Access To Superior Muscle Growth
Click the button below to get access to everything described on this page
and see how awesome it feels to finally build the body you want.
60% OFF HOLIDAY SALE
Regular Price: $69
Get It Today For Only $29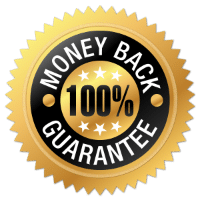 100% Money Back Guarantee
If you're not satisfied with Superior Muscle Growth for any reason, simply send me an email within 60 days and I'll give you a full refund. No hassles. No questions asked. No risk. You either get results or you get your money back.
Here's What Else You Get
When You Buy It Today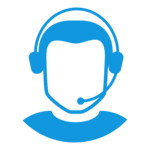 Unlimited Email Support
($199 value)
You get unlimited access directly to me to ask any workout or diet questions you have along the way to building your ideal body. That means you can feel confident knowing I'm always just an email away to provide the answers you need whenever you need them. No more confusion. No more second-guessing yourself. No more wasting time searching for answers. Just ask me instead.
($199 value)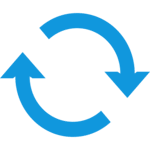 Lifetime Updates
($79 value)
Whenever I update Superior Muscle Growth to add new workouts, or to adjust my recommendations to always be up-to-date on scientific research, you will receive every new version for FREE! That means each time I release an update, you'll automatically get an email containing a download link to get instant access to the new version. Simple as that.
($79 value)
More Success Stories
"Jay, your programs are what I personally consider 'THE BIBLES' of body composition. If I ever get the pleasure of meeting you in person, I would give you the biggest hug you've ever gotten (don't expect more than that, happily married… Ha!). I'm leaner and stronger in my 40's than in my 20's, and for that I'm forever grateful. Thank you!"
Jorge C.
(SMG Customer)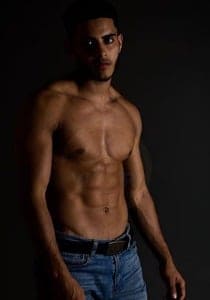 "Your program is simply amazing! This is a picture of me after gaining some mass and then using your Fat Loss + Muscle Maintenance Routine (from SMG) to cut up for my photo shoot! Thank you for all the insight!"
Erick N.
(SMG Customer)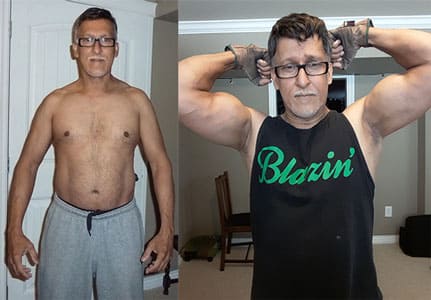 Sylvan C.
(SMG Customer)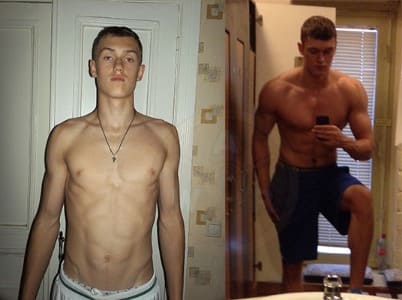 Anton
(SMG Customer)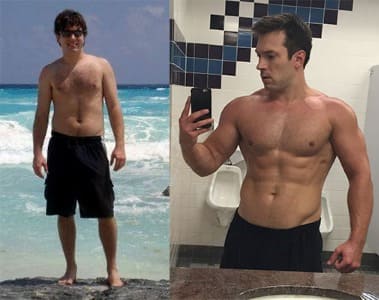 Neil D.
(SMG Customer)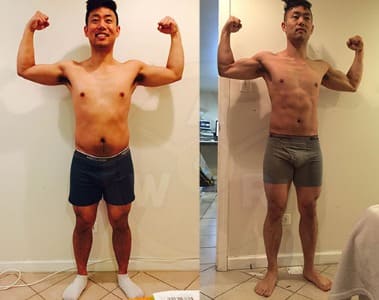 Sam
(SMG Customer)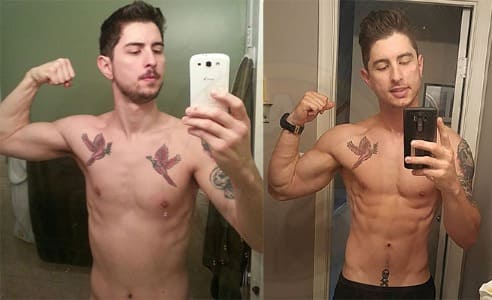 Joshua
(SMG Customer)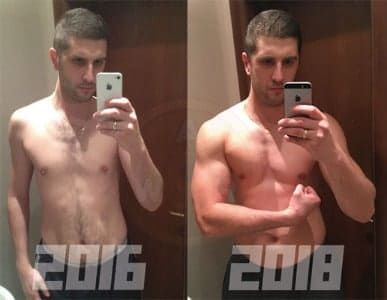 Ivo
(SMG Customer)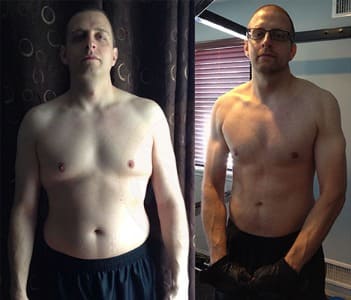 David
(SMG Customer)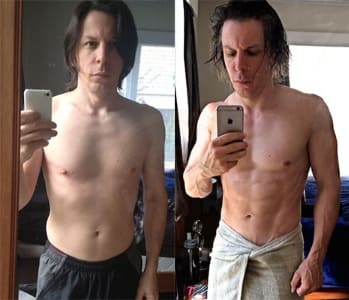 Derek
(SMG Customer)
*Individual results may vary.
Frequently Asked Questions
I'm 40, 50, or 60+ years old. Is this for me?
Yes! The workout and diet guidelines in this program are adjusted based on your age. That means there are separate recommendations for people who are younger, and separate recommendations for people who are older. This way, everything you're doing is tailored specifically to what's best for your age group.
What if I'm working out at home?
No problem! Superior Muscle Growth now includes The Home Workout Guide for FREE! That means you'll get all of the workouts, exercises, and guidelines you need to build the body you want at home using minimal equipment (like bands or dumbbells) or no equipment at all (just your own body weight).
What if I have a question about something?
I'm here to help! Superior Muscle Growth includes unlimited access directly to me. So if you have a question about anything, all you have to do is email me and I'll personally reply ASAP. There is no annoying "support staff" you need to go through first. You always have direct access to me and only me.
How does the money back guarantee work?
It's pretty simple. You have 60 days to check out Superior Muscle Growth and start putting it into action. If you're not happy with any aspect of the program or you're not completely satisfied with your results, you get your money back. Every penny. Just send me an email and you'll get a full refund. No questions asked.
I'm a woman. Is this for me?
Yes, definitely! In fact, Superior Muscle Growth often contain two sets of guidelines: one specifically for men, and one specifically for women. This way, everything is tailored to you based on gender, so you're always doing what's best for you and the exact type of lean, toned, feminine body you want to build.
Will there be a lot of annoying diet rules?
Hell no! There are no unnecessary rules or restrictions to follow here. There are no stupid lists of "foods you can't eat" or "foods you must eat" or special times you must eat or not eat and so on. Screw that. This program is all about adjusting everything to be as convenient, enjoyable, and sustainable for you as possible.
Is this a physical product that gets shipped?
Nope, this is a digital download that you'll be able to view on any computer, phone, or tablet. That means there are NO extra shipping costs and NO waiting for delivery. You get instant access to everything described on this page immediately after your purchase and can start using it today.
I want it! What happens now?
Awesome! Just click the big orange button below and you'll be taken through my secure checkout process where you can safely pay by credit card, debit card, or PayPal. It will be a one-time payment of only $29, and you'll be able to download everything right after that. Then it's yours forever, and all future updates are free.
Copyright © 2010 – 2023 A Workout Routine · All Rights Reserved · Terms · Privacy
*The pictures and testimonials on this page were sent in by real users of Superior Muscle Growth who allowed me to share their real-life experiences with this program and the awesome results they got. Individual results may vary, of course. These are examples of some of the best results people have gotten and are therefore not considered "typical." These men and women took action and followed the program correctly and consistently, whereas the "typical" person doesn't even use the programs they buy (which is why "typical" results suck). In other words, your results may vary based on a variety of factors, the most important of which will be putting this program into action correctly and consistently. As long as you do that, positive results will follow.